Your local Driving School Sunbury
We provide Driving Lessons in Sunbury for all ages and abilities, from beginners to experienced drivers. Our Driving Instructors will help you feel confident behind the wheel and will teach you the skills you need to pass your driving test.
Finding a safe driving instructor isn't always easy; not only should they be qualified but they should also be able to communicate well with learners and provide them with different methods of learning, depending on their individual skillsets. Not everyone learns at the same pace!
When you're learning to drive in Melbourne, it's important to find a driving school that will provide you with quality driving lessons. At Vicky Driving School Melbourne, we have experienced and qualified driving instructors who can help you learn how-to drive-in Sunbury safely and confidently.
Professionals Driving Instructors in Sunbury
Overseas License Conversion
We Speak your language
Vic Roads Driving Test Sunbury

Best

Discounts

for Students & Front-line workers*
Offering Driving Lessons – 7 Days a Week
If you are looking for high-quality driving lessons in Melbourne, Vicky Driving School is the best choice. We are located close to Sunbury, so you can learn how to drive in your area quickly and easily.
To book a lesson or enquire about our services, please feel free to contact us via phone at +61 452 061 221 or visit our website at www.vickydrivingschool.com.au today!
Why choose a local driving instructor for your driving test in Sunbury?
Our Driving Instructor in Sunbury can also help those about to take their first drive as a new driver with a basic understanding of the rules of the road and how to drive safely. As an experienced Professional Driving Instructor, it is important as a Driving Instructor to pass on my knowledge and experience as a Professional Driving Instructor.
Before choosing a Driving School Sunbury, it is important to do your research to ensure you find the best instructor for you. When looking for a driving school or instructor in Sunbury, consider the following:
– The experience of the instructor(s)
– The quality of the training and facilities offered by the school
– The prices charged by the school and/or instructor
– The location of the school/instructor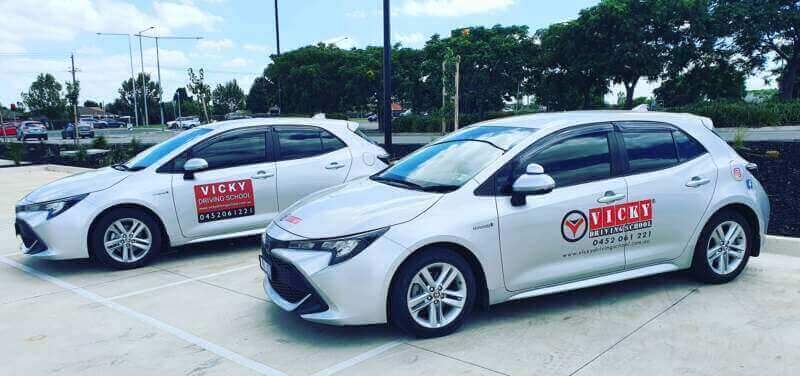 Driving Lessons for New arrivals!
If you're new to Melbourne and looking to start driving, it's important to be familiar with the road rules here. Victoria's roads are managed by VicRoads, and they have a range of resources available to help drivers learn the rules of the road.
One of the most important things to understand when driving in Melbourne is the different road types. There are three types of roads in Victoria: freeways, arterial roads, and local streets. Freeways are high-speed roads with no intersections, while arterial roads have many intersections and usually carry more traffic. Local streets are for slower speeds and typically have more pedestrians and cyclists.
Driving in Melbourne is slightly different from driving in other parts of the world. There are a few things that you need to know before you hit the roads in Melbourne. The first thing to be aware of is the road rules.
How to Pass your driving test at Sunbury Driving School
The Victorian Road Safety Commission (VicRoads) is responsible for setting and enforcing road rules in Victoria. All drivers in Victoria must obey these rules. Vicroads has a range of resources available to help drivers learn and understand the road rules, including an online driver's handbook and a series of short videos called "The 50 most asked questions about driving in Victoria".
Book driving lessons in Sunbury and get 20%OFF your first lesson.
The First Step! – Vicky Driving School Sunbury
The Learner Permit Test Online is a 4–6-hour interactive course and assessment that teaches you about the road rules to follow when driving in Victoria. You'll learn important ways of developing safe driving behaviors, such as rushing your speed on long-distance trips or avoiding making sudden movements while turning at high speeds! The test can be taken online using any compatible device – so don't forget your laptop (or tablet).
Next Step! – Book Your Driving Lesson
If you have already passed your test and are ready to book your 1st driving lesson in Sunbury, Vicky Driving School Sunbury our driving instructors will help you to achieve your VicRoads Driving license in a few days.